COMPÉTITION INTERNATIONALE JEUNE PUBLIC
INTERNATIONAL COMPETITION FOR YOUNG AUDIENCES

9 courts métrages internationaux en lice pour le Prix RTS du Jeune public, décerné par vote jeune public dès 10 ans lors de la projection du samedi 6 octobre.
9 international shorts competing for the RTS Young Public Award, given by vote of the teen members at the 6th October screening (ages 10+).

Rediffusion sans vote mercredi 10 octobre à 16h au Cinéma Dynamo – places limitées!
Repeat screening without vote on Wednesday 10th October 4 pm at Cinema Dynamo – limited seats!

---
Utilisez le champ de recherche (loupe en haut à droite de chaque page du site) pour touver le film qui vous intéresse et les programmes dans lesquels il apparaît.
Use the serach engine (magnifying glass at the top right of every page on the website) to find the film you're after and the progammes it screens in.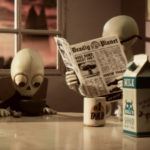 COMPÉTITION JEUNE PUBLIC
SA 6 OCTOBRE
16H00
ALHAMBRA
DÈS 10 ANS